Summer is here and it's coming in hot!
Summertime is here, and with it all things we love - pool parties, flamingos, outdoor concerts and more! But, with summer also comes high temperatures and dehydration, so it's key to stay on top of our water game at all times.
When the body is not well hydrated, we feel extra tired and exhausted, fatigued, and lightheaded; along with other (even worse) symptoms including headaches, dry mouth, constipation, joint/muscle pain, and even accelerated heartbeats.
Yes, it's that BIG of a deal! People tend to underrate the importance of water consumption, but during the summer it's very important to stay hydrated; particularly, on really hot days... and for those who don't like regular water, adding flavor with fruit is a simple, healthy, and an easy way to encourage ourselves to drink more. Oh, and did we mention it's EXTRA refreshing?!
That's why we decided to bring you a series of Fruit Infused Water Recipes! To give you plenty of options for staying fresh and hydrated, while keeping out and about. These recipes are fun to make, and the fruits included add numerous health benefits.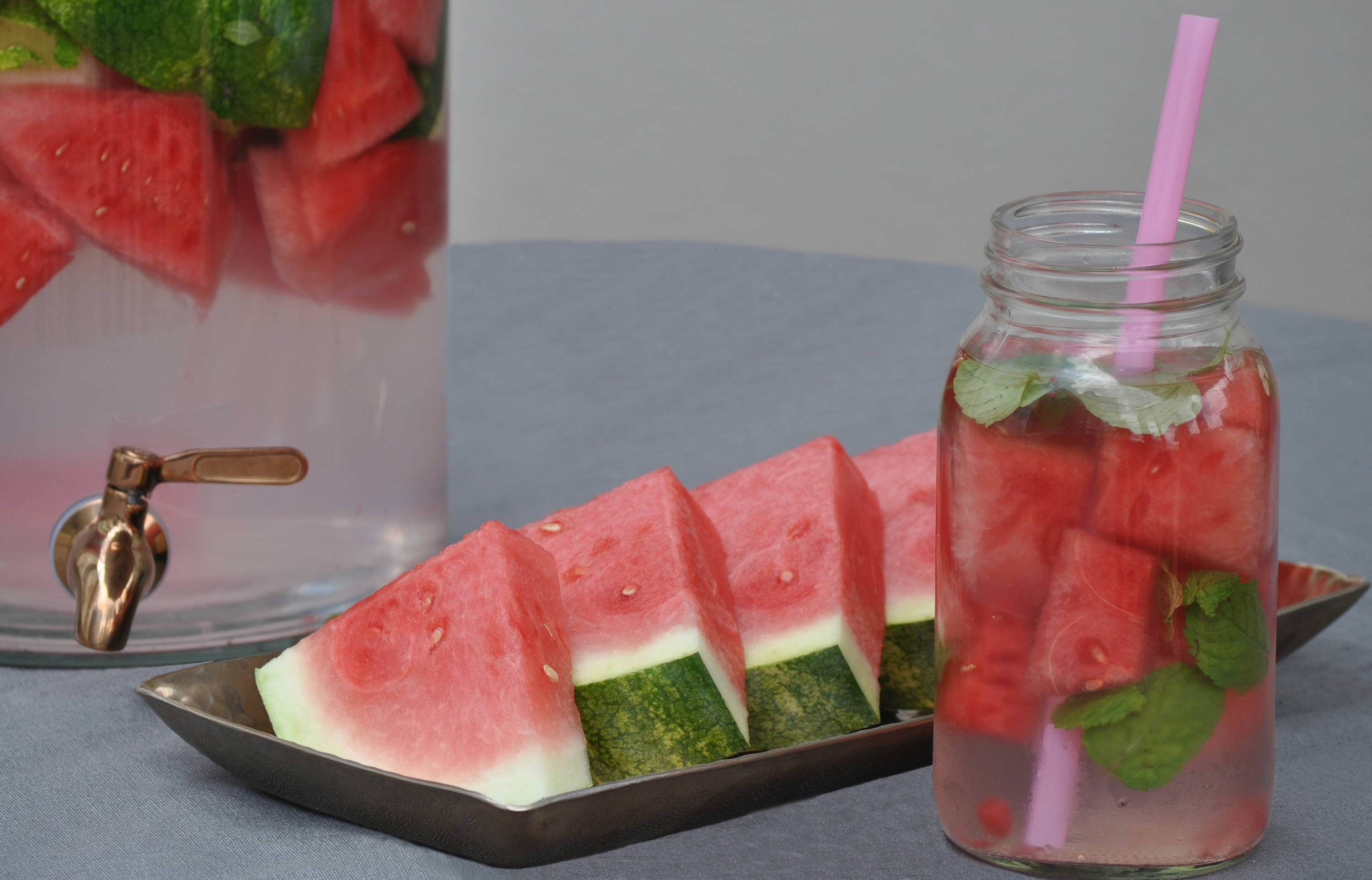 Ingredients:
1 mason jar or glass
½ cup of fresh watermelon*
¼ cup of fresh mint leaves*
[*Can always add more watermelon or mint to your liking]
Preparation:
1.   Cut the watermelon into small cubes. Add them with the fresh mint leaves to the glass.
2.   Use a spoon to mix it up to get the perfect mix of watermelon and mint with each sip.
3.   Fill the glass with water and refrigerate overnight for maximum flavor.
Benefits of Watermelon & Mint:
Watermelon
- Excellent for detoxing and flushing toxins out of the body.
- Encourages fat loss.
- Supports inmune function.
- Improves liver function by filtering and getting rid of ammonia (which can damage cells).
& Mint?
It helps our digestive system and gets rid of stomach cramps (and also gives us a fresh breath).
It's the perfect combo for a hot, summer afternoon!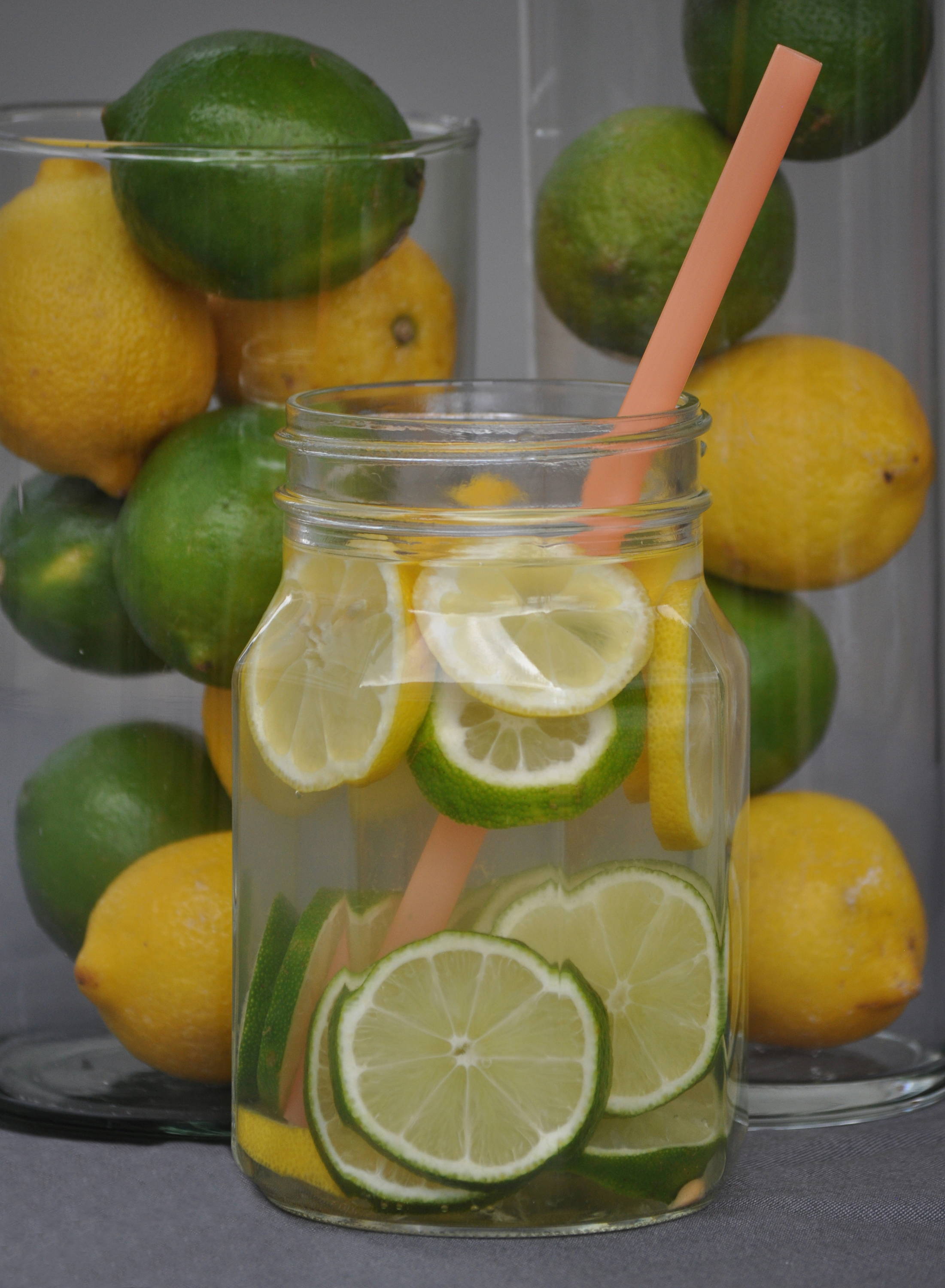 Ingredients:
1 mason jar or glass
1 lemon*
3 limes*
Preparation:
1.   Slice the lemon, slice the limes, and add to the glass
2.   Add water and refrigerate until cold
[*The proportion of lemon to lime can be changed to fit your taste]
 
- Lemon oil, used in aromatherapy, enhances mood and is a spirit-lifter.
- Low PH makes it antibacterial, and thus, is used for medicinal purposes.
- Great method for detoxing, cleansing your system from the inside out.
- Supports healthy skin
Some people drink warm, lemon water first thing in the morning - they claim it's amazing! Give it a twist with the lime, and drink on.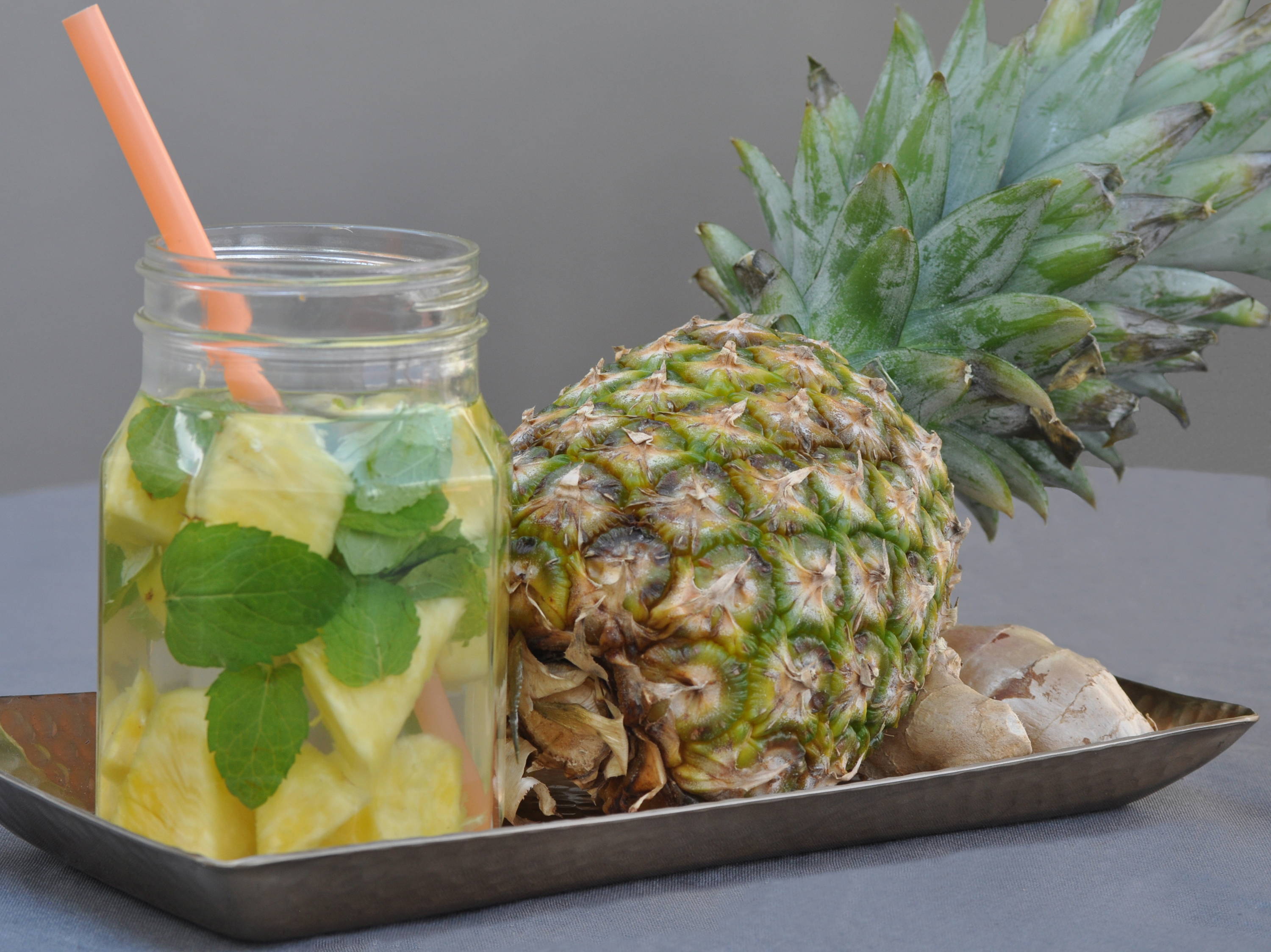 Ingredients:
A few sprigs of mint (3 or more)
1 Pineapple
Preparation:
1.   Cut the pineapple into small cubes.
2.   Add the pineapple cubes and sprigs of mint to glass.
3.   Fill with water and refrigerate overnight.*
       
[*The flavor will intensify the longer it sits in the refrigerator]
- Rich in vitamins, enzymes and antioxidants.
- Helps boost the immune system, build strong bones, and aids digestion.
- Low in calories (yay!)
- Pineapples contain 100% of the recommended daily dosage of vitamin C (per the FDA), and is a primary water-soluble antioxidant that fights cell damage (against heart disease and joint pain, among others).
Pineapple juice is the perfect summer staple, and with these added benefits, it's a no brainer!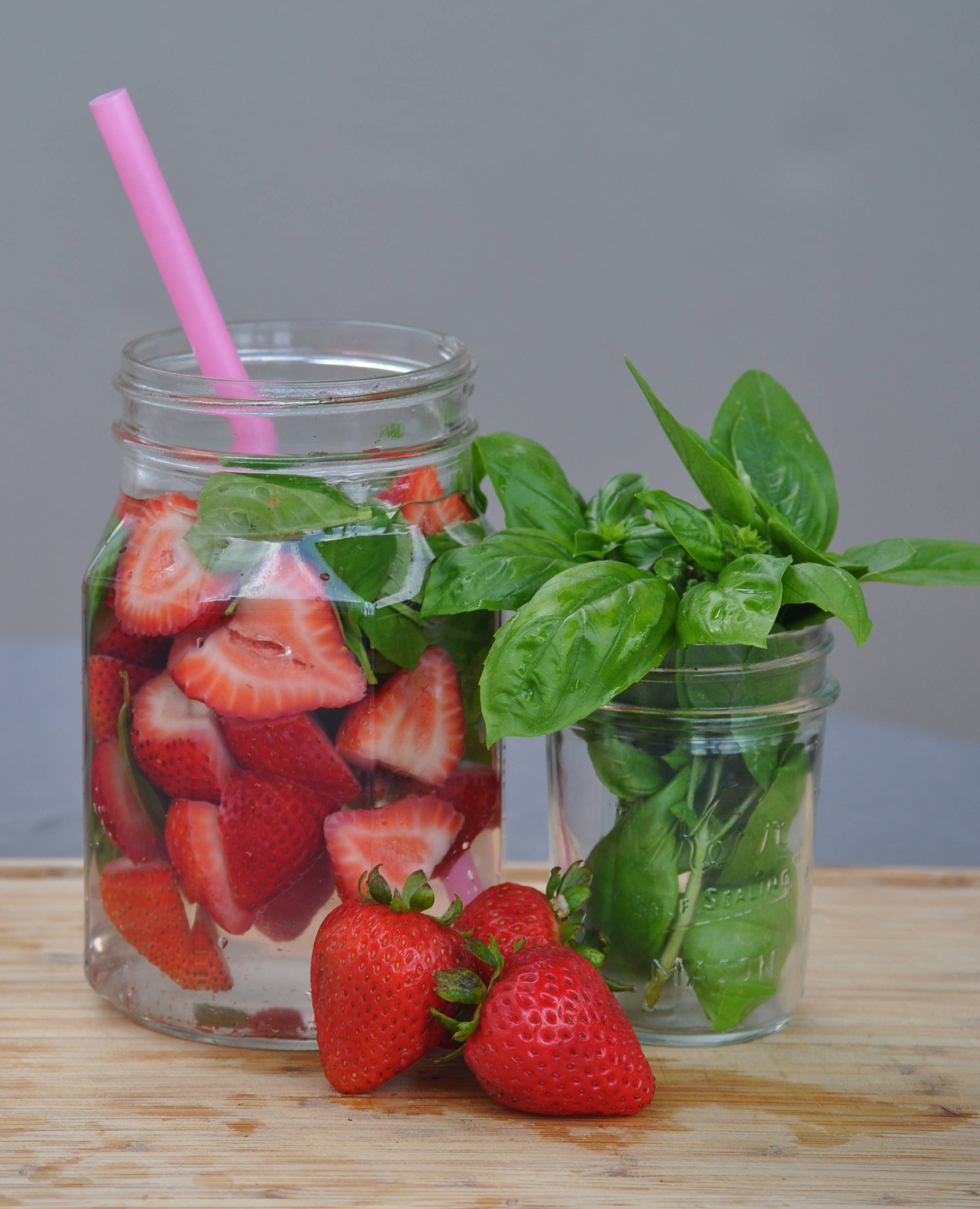 Ingredients:
1 mason jar/glass
8 whole strawberries
8-10 fresh basil leaves
Preparation:
1.   Slice the strawberries and chop the basil.
2.   Add the strawberries and basil leaves to the glass.
3.   Fill with water and refrigerate overnight for extra flavor.
Benefits of Strawberry & Basil
- Rich provision of essential nutrients including vitamins A,B, C, E, and K.
- Support the proper absorption of essential minerals such as iron and calcium, while aiding the immune system.
- Boost energy levels and help maintain proper metabolic functions that improve weight loss.
We call it the recipe for a refreshing success.
Stay active and hydrated.
Now you have no excuses! Adjust your body and hydrate for the summer season and always bring your refreshing drink with you. You can take your water bottle out with you, that way you'll be reusing your bottle, and helping the planet as well. You see? Social consciousness can be found even in the little things, and you're helping yourself in the process!
These recipes are perfect for your next summer social gathering, for after your workout, or as you read a book in the glaring sun. Let us know which one is your favorite, and enjoy!
And don't forget to #MoveWithImpact. Sign up below for more!
---