Cue the fireworks! Wednesday is the Fourth of July!
We are super excited to pay tribute to Independence Day with a barbecue, hot dogs, some good ol' drinks, and of course, the much anticipated fireworks. Yay!
We hope you're planning something super patriotic too. After all, we only get to do it once a year. Not enough, right? But we want you to plan not only the patriotic food and drink display in your backyard, but your patriotic and festive outfit as well. Who doesn't want to look all-American and proud on the Fourth of July?
That's why we are ready to par-tay in our blue Udav pants. We had to choose it as the main star of our styling tips for this day! It's perfect for flag matching! Whether you'll be dressing for the gym, your yoga class, the bbq you're attending, or just to spend the day outside waiting for fireworks, we believe that there is no other way to dress than doing it in comfort and style, and better yet, feeling completely in spirit for the occasion.
Enjoy your festive workout, dressed in spirit, and feel the extra motivation from your outfit to pre-burn those calories. Show off your Independence Day look without feeling the need to go running to the store to get new clothes - although the running part could be fruitful. Use pieces you already own to mix and match with our Udav Pants, and you'll look great!
Here's some style inspiration on how to wear our Udav pant in a festive way this Fourth of July (and a special offer at the end):
Look 1: Our Udav pant + a white top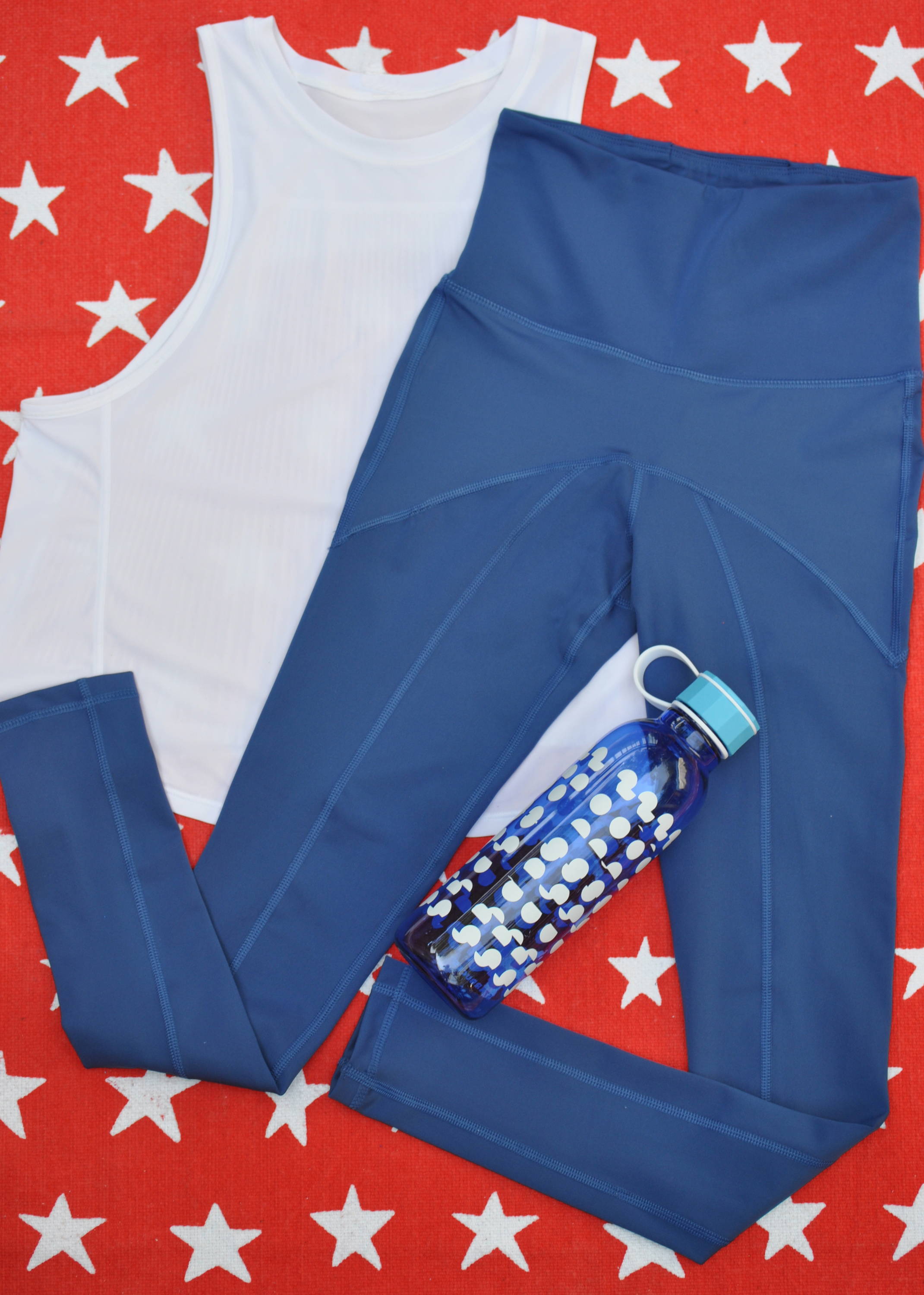 Keep it simple with white and blue! We know red is a strong color, and not everyone's cup of tea, so it's okay to emphasize the white and blue within the three colors. We recommend that you add in some accessories such as a red scrunchie or a fun water bottle to make the look more festive. Want extra style? Knot your white top to further show off your awesome Udav pants, which are high waisted but come with a 3-way folding waistband. Talk about the perfect combination with a knotted top if you don't want to show much skin.
Look 2: Our Udav pant + a flag top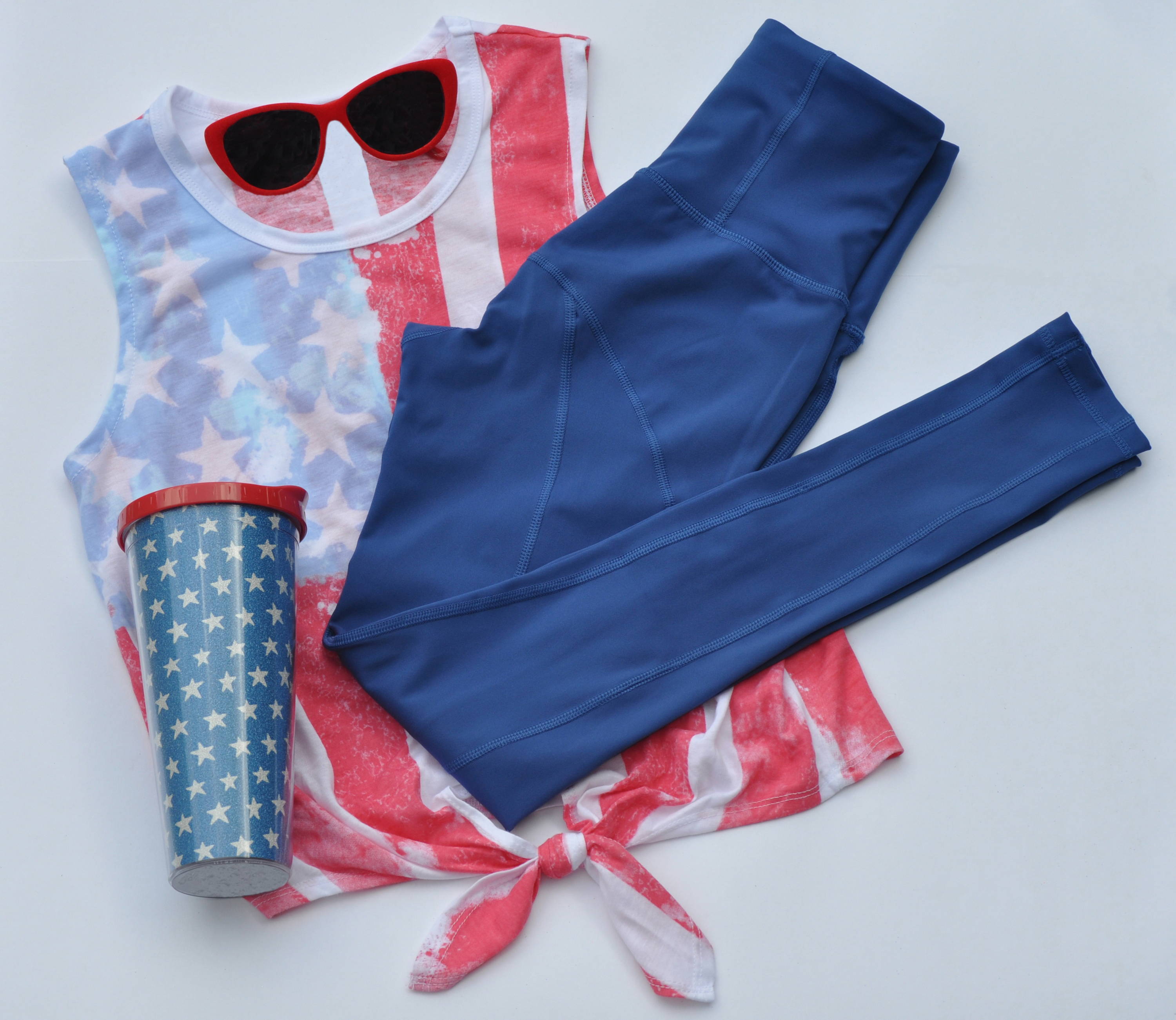 If you're looking for a true Americana look, this one's for you! Almost everyone has a flag top in their closet that they specifically bought for Fourth of July. For an easy and super patriotic look, throw on your flag top with our Udav leggings. They pair perfectly together-plus it provides all the colors: red, white, and blue! To further up the style, make a bold statement with a pair of red sunglasses and festive accessories to complete the look.
Look 3 = Our Udav pant + a tie-dye sports bra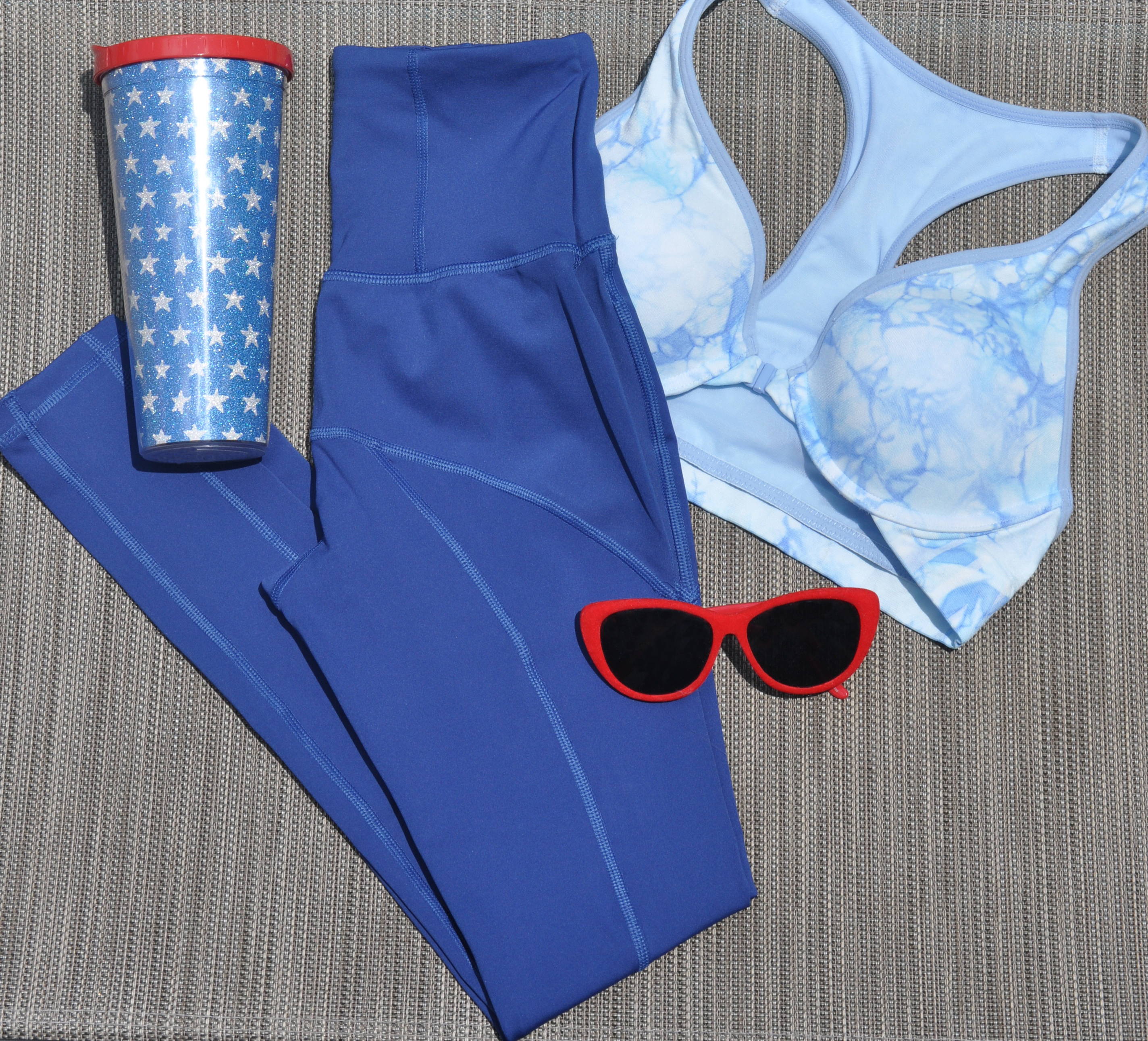 Planning to spend your holiday at the pool? This combination is perfect for poolside yoga to celebrate the day. Nothing says summer like tie-dye, and a blue tie-dye bra provides tonal dressing with a twist! Plus, with the heat that Summer brings, you'll want to stay sweat-free in our Udav pants with its moisture-wicking technology! Pair the combination with red sunnies and festive accessories and you'll be sure to turn some heads!
Look 4: Our Udav pant + a red top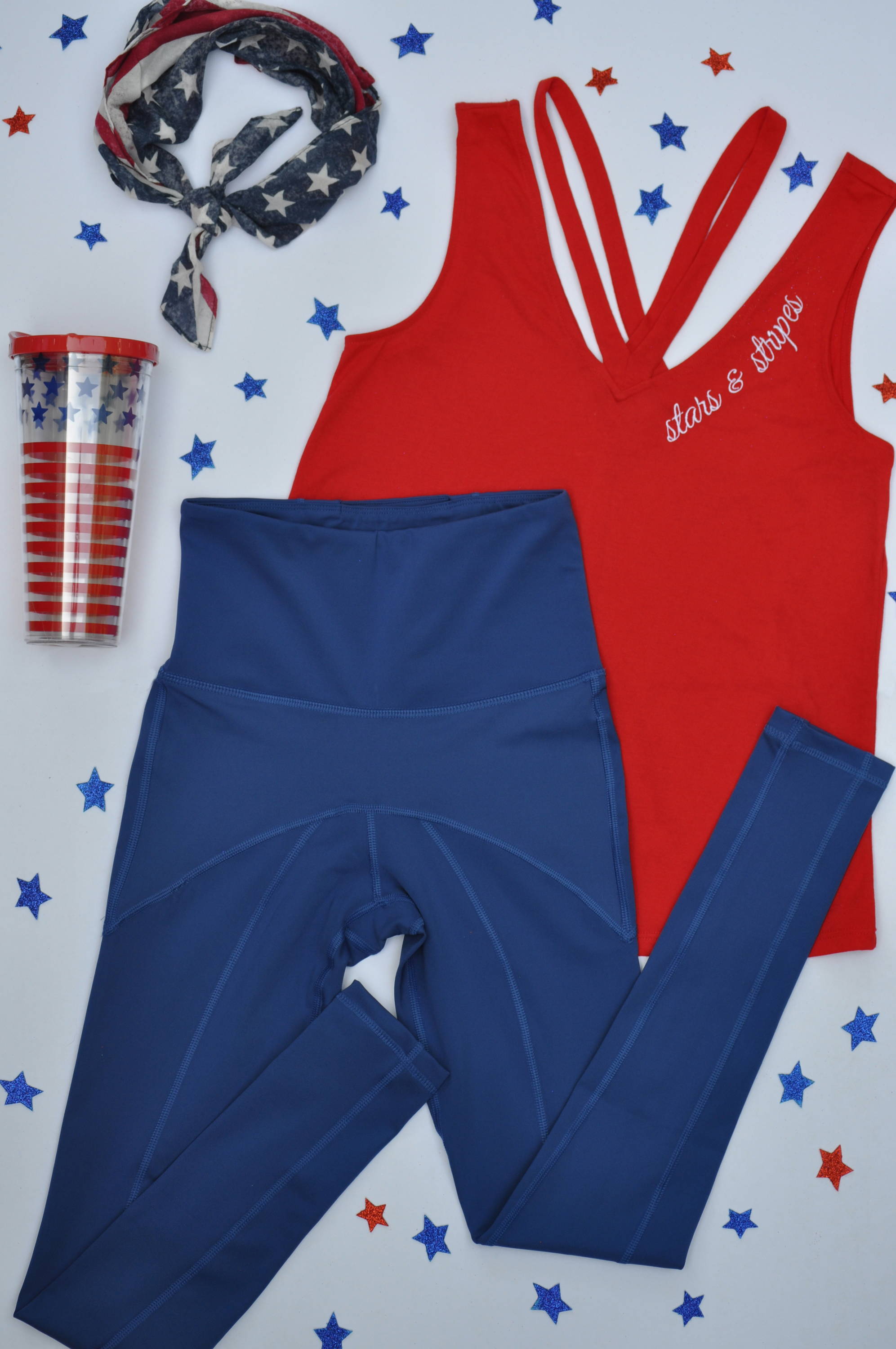 Perhaps the no-brainer way to be festive for the fourth: a red and blue combination! This look is for those who aren't afraid of color, an follows the color blocking trend. Play up the theme even more, by pairing these pieces with a flag bandana. For extra style, tie the bandana like a neck tie or use it as a hair accessory! Either way, you'll be super patriotic for the holiday, especially if you want to be super theme oriented.
Look 5: Our Udav pant + a star tank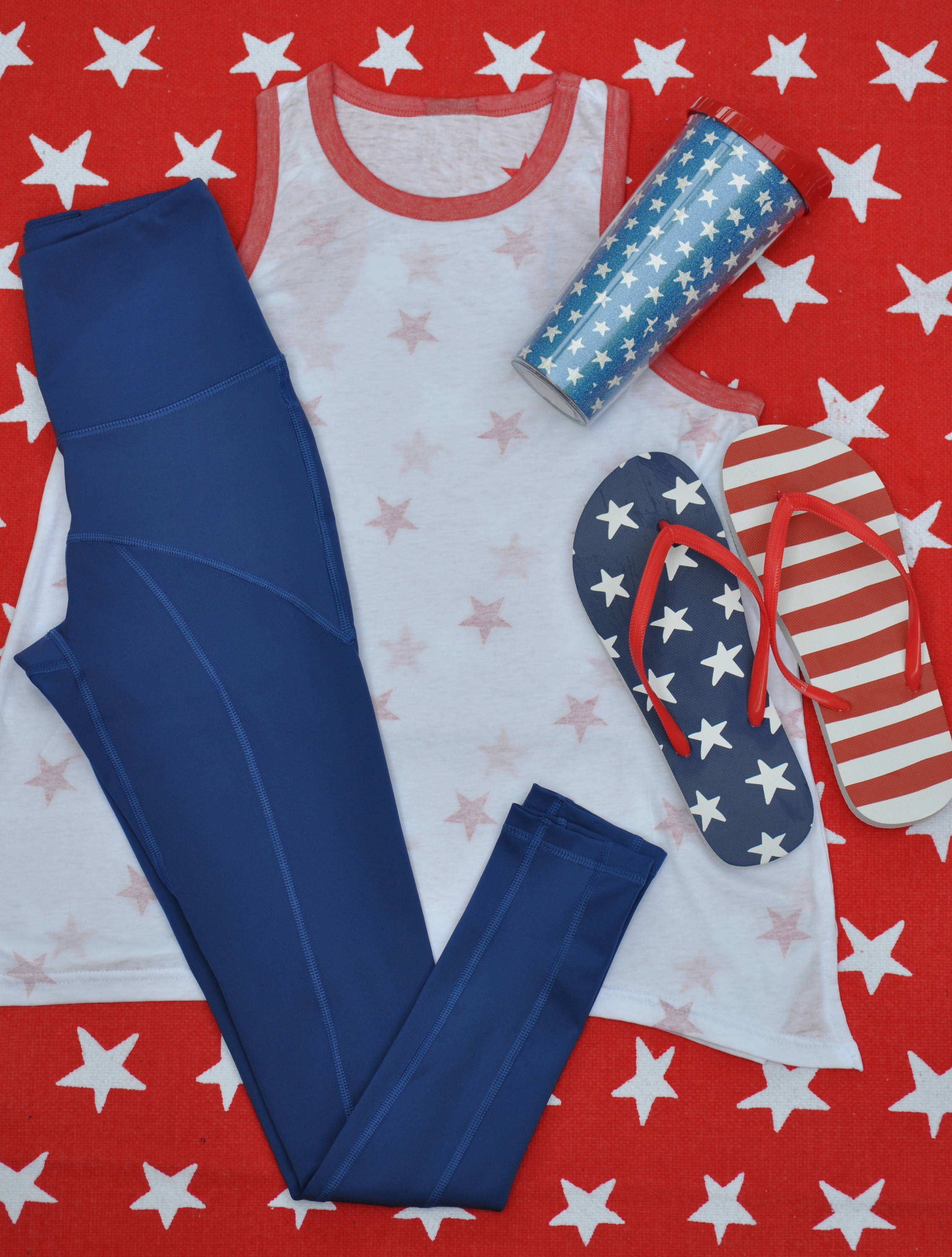 This look takes its style cues from the flag itself. We're seeing stars, literally! Right now, graphic tees and prints are all the rage and this graphic tank with a faded star print provides a more subtle way to be festive than a flag top, while staying on trend. We especially love the vintage look and feel it gives, adding a little edge to our Udav pant. This combination provides the perfect amount of each color and if you throw on a pair of festive flip-flops, you'll look festive from head-to-toe!
Have a safe, fun and festive Fourth of July!
We hope you found these looks inspirational and that they've now gotten you in the holiday spirit! If you want to get your hands on our our star of the day: the Udav pant, you can do it here, and help us fund education, employment and empowerment for women who have survived abused. Celebrate not only America's Independence, but also women who have broken free from the chains of abuse. Tag us on social media and use #MoveWithImpact to be featured!
Feeling festive? Use coupon code "THEFOURTH" at checkout for 25% off the Udav pants - click here.
---